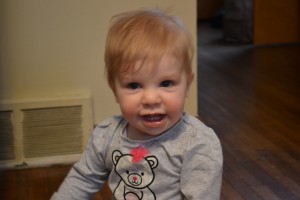 Sophie's second year of life brought new challenges. Up until she was almost a year old, her neurologist was content to just observe her progress and see if she caught up before running a bunch of tests. But as her first birthday approached, we knew that he was going to suggest testing because she wasn't on track developmentally. She only began crawling just days before her first birthday. We agreed to move forward with testing, but I was confident that God had touched Sophie and was answering our prayers for healing in her body.
Sophie underwent three MRIs that year she was one, and she also underwent multiple procedures on her eyes because of her blocked tear ducts. Unpleasant to say the least. We also endured two trips to the Cleveland Clinic for second opinions. Their neurologists actually ended up running many of the tests that she underwent that our neurologist in Columbus had been hesitant to do unless necessary. Blood draws, urine samples, more blood draws. The whole process was just nightmarish. I remember sitting in labs, holding Sophie, clamping down her limbs and holding back tears as I whispered in her ear to try to help her get through the needle sticks. Because she was so small, the lab technicians often struggled to get the needle into a vein to get the blood they needed. And then there was the arterial blood draw. Oh. My. Goodness. I remember standing above her head as she lay on the table, holding her little face in my hands, staring into her eyes and just telling her over and over that it was going to be ok. I remember after that particularly difficult lab appointment, Andrew said to me in the car, "I don't know how you do it. I don't know how you stay so together during these things." I didn't have an answer for him then, and I don't now either. I just needed my baby girl to know that mommy was there, and that she was going to be alright. Even though she was enduring pain, it was for her good. After this appointment, I remember seeing myself as the child in pain, with my Jesus just holding me, reassuring me that even though I was in pain, he was there, and it was going to be ok. He promised me then that it was for my good. What a beautiful picture, to know that just as we hold our babies when they are hurting, Jesus holds us through our pain, too. Sophie understood nothing of what she was going through or why she was going through it, but as her mother, I knew that she needed to go through these things for her good. I was reminded yet again of another reason to trust my Father. Like Sophie, I did not understand one bit of what we were going through. I could not, cannot, see the big picture, but God does. And I trust that the picture he sees is completely beautiful. And so we kept walking forward.
After her tests were all run, I realized that the tests were not, in fact, the hardest part. The waiting was harder. What would the results be? As we waited, I wrote an email requesting prayer for our family:
"At this point, I am just not sure what to pray for. Each time I dread one condition or diagnosis, I'm always reminded that another diagnosis could be worse. How to choose the least evil diagnosis?! Ultimately, I'm reminded that I don't WANT or NEED to decide my daughter's life. I want to place that in the hands of the ONE who can actually see what is BEST and what is needed for HIS GLORY. So I ask you to pray as you feel led, and ask God to do what is best for Sophia, and ask him to prepare Andrew and I for whatever that is. Along with that, as a mother, I cannot stop asking him each and every day, many times a day, that he would make my daughter strong and whole, every nerve, muscle, joint, tendon, ligament, neuron, gene, etc."
Oh, to be able to trust our Father, that he truly DOES see what is BEST, and even if we go kicking and screaming, he won't give us any less than this best, just because we don't see it through our human lenses.
My deepest fear in this time of waiting, that I never even spoke aloud for a long time, was that her genetic test would come back with an abnormality. I was terrified that she would have a chromosome disorder. I agonized over this fear in my own heart and mind as we waited to hear. One day when I really could take it no more, I shared this fear with my ladies small group. Friends, it was so freeing to let that out. On my way home from my group, I completely broke down in my car, wept before the Lord and confessed my fears to him. I chose to stand resolute in my trust in his good plan for Sophie's life, regardless of the outcome of her genetic test. Whatever the results might be, his plan was GOOD. The next morning, less than 12 hours later, I heard from the neurologist. Her genetic test was normal.
In fact, as we got result after result, everything was normal. She was a hypontonic child with no clear medical explanation. Any number of things could have been wrong with Sophie, but as we pursued answers over that year of her life, there were none to be found. I will never stop believing that God touched her in those moments when we prayed for her, when she was anointed in prayer at church, the probably hundreds of people who have lifted her up in prayer countless times. I am eternally grateful to the body of Christ, because I believe now, and I did then, that our prayers were heard.
Although we had much good news in this second year of Sophie's life, we had the the pain of seeing our child endure pain. How our Father must have felt to see his only Son on that cross. My heart broke for Sophie with every needle stick, every moment of being pinned down so that someone could examine something, all the fear and uncertainty and confusion she experienced from loud-noised machines, anesthesia, and, I'm sure, pain. What a year. And the barrage of testing that she underwent did not leave her life unscathed. When she was 18 months old, Sophie began pulling her hair out. She was diagnosed with trichotillomania. It was her way of coping with her world. Each bout of pulling always began with a change, usually my return to work. I guess that should make me feel good – she feels that I provide her stability and security in life. But, honestly, it made me feel guilty, or I should say guiltier. I already felt guilty for working and leaving her each day. Now my separation from her was causing her to pull out her hair.
This experience with Sophie taught me a lot about true beauty. And of course, more about acceptance. (It's a big lesson for me!) And it showed me how much I cared about appearances. Way. Too. Much. My love for Sophie never wavered, of course, but I struggled with the feelings of judgment that others might have towards her. I never wanted anyone to think Sophie was anything less than a wonderful, beautiful creation of God. And perhaps I wasn't giving people enough credit. There were and are so many wonderful people in our lives who have loved and accepted Sophie from day one. But I was always afraid of how someone else might not see her as the treasure that she is. Introspection showed me that perhaps I feared this because I was not very accepting of others, particularly when their flaws were evident. My journey with Sophie has helped me see that I need to be a much more gracious and accepting person. God, who is PERFECT, graciously accepts us — so, so imperfect — with no catch whatsoever. Who am I to be unaccepting of others?
In her second year of life, the biggest developmental challenge that Sophie continued to face was her lack of speech. By the time she was approaching her second birthday, many of her skills and areas of development were catching up or caught up. But not speech. At 20 months of age, she could not say one word. Many of her doctors and therapists assured us that this was pretty typical for a child with her type of muscular delays. Her body has always been so focused on breathing, moving, balancing, strengthening, that it just hasn't had time to think about speech. And, we don't consider the amount of muscular control needed for speech, either. So with Sophie's hypotonia, a speech delay was a given. If you know me, you know that words are pretty important to me personally. How I longed to hear even just the word "mom" come out of my daughter's mouth. This was a longing that would not soon be satisfied. And this has been and continues to be an area where I have had to exercise MUCH trust in my God's goodness.
In another prayer email, I summarize what this year has taught us in our walk of faith. "We are confident that God has touched and healed Sophie in many ways since her birth, and we know that this [further healing] is not outside his power. Yet, I continually temper these desires with a greater desire to see His best plan unfold in her life. May we be ever accepting of what he has for her, even if initially it does not match our desires or plans. Above all, we pray for His best, and for good results that align with what God has for Sophie. Seems redundant to say that, because that's obviously what he will do and how it will unfold. May we accept that with grace, in a way that glorifies him. And may Sophie's life reflect his goodness through and through."
This continues to be our prayer. Though I ask God often to give Sophie the gift of speech, I really just want her life to reflect God's goodness. I trust his plan. That doesn't mean I don't have hard days, that my heart never breaks over her silence. But in my heart of hearts, I trust my Father.