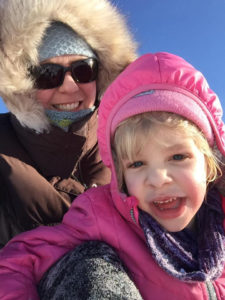 Have you ever had one of those moments where you are saying something to your child and you immediately hear the voice of God speaking it back to you? I had one of those moments this morning. We were running late getting ready for school, surprise, surprise. I hadn't slept much the night before. The baby was cranky, being the reason that I was up, she was also sleep deprived. I was trying to do too many things in too little time. As I hurried to get ready to avoid driving Sophie to school in my bathrobe, I shouted instructions to the big kids, hoping against hope they could get themselves together better than usual when left to their own means. I asked Sophie to get her pink blanket for rest time at preschool, to get her socks on, and to get her shoes on. Three simple requests.
She came back to my room a few minutes later where I was trying to dress myself while keeping the baby out of my trashcan, and she proclaimed with glee, "Look, I got my hat!" She's wearing her winter hat. Sockless. Shoeless. Blanketless. But she's got her hat. And she was so happy about it. In my overwhelmed moment of frustration I told her she didn't need a hat today because it's 50 degrees outside. (Can I get an amen for that?!) I reminded her about her socks and shoes and blanket. But instead of getting on the ball, she came back to that hat and argued with me that she did indeed need her hat today, that she planned to wear it outside to school. I should have just dropped it. She's six. Her logical function is, well, six. Sure, wear your hat. It's a hat, who cares! But I was a little annoyed with her attitude to argue with me, and so I chose the wrong battle. But in that battle, what I said to her really resonated with my own journey lately.
"You have spent all this time worrying about a hat that you don't even need when you have not even done the things I've asked you to do. What I'm asking you to do will prepare you for school, where you need to be today."
That hit me between the eyes, man. I have spent so much time worrying about things I don't even need instead of just doing what God has asked me to do. When I spoke those words, I heard "house" rather than "hat" in my head. You have spent so much time worrying about a house you don't even need instead of doing the things I've asked you to do. I'm going to chew on that one today. Mine's a house. What hat are you worrying about?