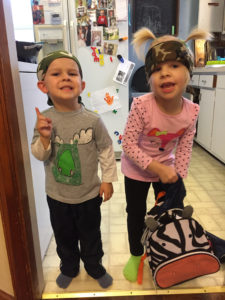 It is 10:30 AM. Today they are giving me a run for my money. (Let's be honest, every day they give me a run for my money.) I have already lost count of the meltdowns and timeouts we've had this morning. It's a green beans on cake kind of season around here with my older two children.
Micah precociously tells Sophie, "No, you're not allowed to do that."
Sophie shouts, "Micah! Go AWAY!" swinging her arms (and her toys) around wildly trying to remove his presence from her space.
… And the yelling continues ….
OR
Sophie tells Micah, "You're going to wear this shirt today."
Micah dissolves into a puddle of angry tears on the floor because he wanted to pick his own shirt.
Can somebody please just take a chill pill? Yikes.
These are the cringe-worthy moments that my days are made of right now! They're just kids being kids, but I happen to believe it's my job to train them up in the way they should go, and green beans on cake is NOT the way to go…
So we use this saying on a daily basis. "Don't put green beans on your cake."
Here's how it began —
One day when Micah was spouting off some kind of attitude towards me and his sister Sophie, I exclaimed, "Micah, stop that, it's just ugly!"
He was very offended, because already at three he wants to look good. "Mom, don't call me ugly. That's not nice." He was truly hurt when he thought I was calling him ugly.
So I explained, "Micah, you are not ugly at all. You are a wonderful boy with so many good qualities, but when you have this bad attitude, it looks ugly on you. It ruins the good you. It's like putting green beans on cake!"
That really got his attention! "Green beans on cake, Mom?! That's disgusting!"
"Yes, it is. That would be so gross! It would mess the cake all up. And that's what your attitude does to you. God made you to be a wonderful little boy who is kind and funny and smart! But when you have this attitude, you're putting green beans on your cake."
Suddenly it was crystal clear to him what I was saying. He realized to some degree that his sinful choices are not a reflection of who he truly is, but they are a distortion of who God created him to be. This vivid, disgusting image helps my children understand what their sin does to their souls.
And it helps me too. Sometimes they'll even say it to me, "Mom, that's green beans on cake when you say that." And sometimes they're right. We all put green beans on our cake now and then. But now all we need to do is lovingly remind each other when we're starting to load the cake up with beans and it helps diffuse the situation, remind us that we're not being the best version of ourselves, the one we were created to be.
So we soldier on, through these years when the children are each other's best friend and worst enemy from moment to moment. I know I'm going to blink and it will be in the past. I won't mind if I forget the fighting and the meltdowns, but I hope I remember our phrase, green beans on cake, because I don't want to lose sight of what my sin does to my soul. I want to be the best version of myself that I can possibly be on this earth.
And  I hope that my kids will remember it too as they grow, so that when they are teenagers walking through school hallways, they will be kind, they will reach out to the lonely. When they start their first job, they'll be a light for Jesus because their lives look different. When they go out into this broken world, they'll have something to offer, something sweet like cake, that leaves others feeling uplifted instead of grossed out.
At the center of my job as a mother is the responsibility to teach my kids to know and to be like Jesus. Many days that feels like the impossible dream. But I know it's not. Because we have the good moments too, where we're talking at breakfast about Easter and they're talking about how Jesus died on the cross for them, and rose again, and is coming back to take them to heaven because they have Jesus in their hearts. Some moments it's just pure sweet cake.