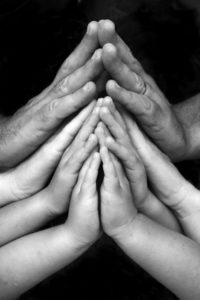 When I was a little girl, I recall vividly the way my Daddy prayed. He prayed about everything. All the time. We'd be pulling into a parking lot, and I'd hear his familiar prayer, "Lord, we just need one parking space." It seemed like such a silly thing to pray for. And yet, as an adult, I find myself saying the same thing, out loud, with my own kids in earshot as we pull into a parking lot.
My Daddy had an ongoing conversation with his Heavenly Father. If we passed an accident, he always prayed, "Lord, those people need your help." If he couldn't find something, I'd hear, "Lord, where is so and such. You know where it is. Please show me." If anyone in our family was sick, he was quick and ready to lay hands on us and pray for healing. Before every meal, he prayed more than just "Thank you for our food," often tearing up as he spoke with his loving Father. My Daddy was a man of prayer.
While I sometimes catch myself praying similar prayers as an adult, I don't think I realized the full impact of his continual dialogue with God on me until just recently.
A grandmother in our church shared with me about a time she visited our preschool classroom with her granddaughter who was visiting and wouldn't stay in the class alone. The teachers asked for someone to lead in prayer before snack, and my son Micah was a ready volunteer. As he began to pray, her eyes bulged out, recounting it to me, she exclaimed, "He took us to church!" as people often say of someone who prays a moving prayer. She was blown away by the prayer of my four year old. (But, not to worry, she said, as he was soon talking about poop and being a typical four-year-old again!)
In that moment of talking with Pam is when my Daddy's legacy hit me. He was a man of prayer. He made me a woman of prayer. And now my children are becoming people of prayer.
My Daddy left a legacy of prayer in my life because he was always doing it in front of me. I'm sure we can all identify problem habits that our children have because they've seen us model them. But are we modeling the good habits also? My Daddy modeled "pray without ceasing" every day of his life when I was growing up. And now it's ingrained in me. I want the same thing for my children. But I realize that if I don't model it for them, then they won't grasp it in that way. If I never prayed with them or in their earshot, then how would they learn to pray?
Many people like to use rote prayers that are repeated before meals or bedtime, "Now I lay me down to sleep" stuff. That's alright, but I don't think it captures the real relationship I have with my Heavenly Father. Sure, there are things I don't pray about in front of my kids because they don't need to know the intimate details of certain situations. But there are a lot of things I do pray about in front of my kids. I want them to know what authentic conversation with God sounds like.
That's what prayer is in our house — a conversation with God. And my kids know they can talk to God anytime. He's always listening, I tell them. My kids are invited in to prayer time throughout our day. Sometimes they choose to repeat what I'm praying, and sometimes they pray their own prayers.
I'm thankful I had a Daddy who taught me to pray continually through the way he lived his life. And now, in turn, I hope to model that for my children as well.