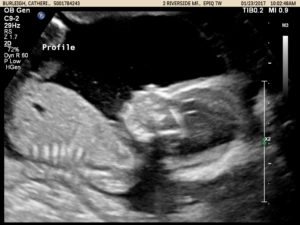 "Baby has a beautiful heart."
These were the precious words our sonographer told us during our ultrasound this past Monday. Of course she meant medically speaking, but what beautiful words to have spoken over our unborn child, just 10 ounces big. Ten tiny fingers and ten tiny toes. A strong heartbeat. Every measurement was perfect. Baby slept just like I do, with one hand up by my face.
Boy or girl remains a mystery.
Twenty weeks into pregnancy I remain certain of the eternal significance of THIS child. A beautiful heart. I claim that in full faith.
Our visit with the high risk physician at the hospital could not have gone better. We spent the better part of an hour discussing my confusing and relatively foggy medical history with our specialist, Dr. Matt. What a great doctor. He reviewed some of my past medical notes and listened to my story. I intrigued him, he said, because he had a particular interest in stroke patients. His wife suffered two strokes before going on to have multiple healthy pregnancies.
His view on my history was that my stroke occurred during my first pregnancy, and that my vertigo was perhaps a separate issue altogether, due to the other things going on with my inner ear. That makes a lot of sense, although it's not something we can ever be 100% certain of. But given my symptoms at 38 weeks with Sophie, he felt that was more likely when the stroke occurred. He found it greatly reassuring that I had since had a completely healthy and normal pregnancy with Micah. And he encouraged us to find that reassuring as well.
After hearing my story and reviewing my records, he felt that my risk for another incident of stroke in pregnancy was very low. Praise Jesus! What a weight lifted!
He understood (because of his wife and also his profession) what it felt like for me being labeled as having a "history of stroke" with every doctor I've seen, and how that has caused unnecessary fear in our lives, especially since the pregnancy. It has been a heavy diagnosis to carry, like many other diagnoses that are serious and lifelong and just never really leave you. Even my neurologist had warned, finger wagging at me, "now don't go getting pregnant again because your next stroke might not be a tiny one," as if a next stroke was a certainty instead of a minuscule risk. Dr Matt was able to put things in a different perspective for us and gave us a much needed second opinion which offered us so much hope and took a huge weight off our shoulders. He's even going so far as to get us another opinion beyond his own. He's requesting all my original imaging so that he can view everything himself and have his own OB Neuro specialists review them, too. After that he will make a final decision about my risk, but he feels confident that everything about this pregnancy is and will be healthy and fine.
Thanks be to God for his indescribable mercy and goodness! I am overjoyed with the gift of this sweet child to our family!