One of my favorite times with my son Micah these days is our afternoon time when Hannah is napping and Sophie is still at school. It's our special time of day where we get to be together just the two of us. As the middle child, he really needs that time. Sometimes we bake together. He loves to help. And sometimes we'll play cars, or blocks, or hide and seek. But most often Micah will ask me to play a game. He's just getting to the age where he understands games well, and I think he perceives that I enjoy games, too.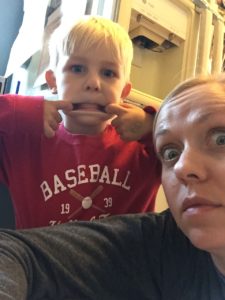 Recently, I decided he was ready for Chutes and Ladders. It's a bit more complex than Candy Land or Memory, but he picked it up quickly. He also quickly picked up how to cheat. If he could see a ladder ahead, he would jump two squares while only counting one number so that he could get ahead. Or, he'd count a square twice if he realized he was going to end up going down a chute. The only problem is that all his attempts to control the game didn't always lead to him succeeding overall, or even in the very next turn. He'd try to manipulate one turn to avoid a chute or gain a ladder, only to end up at another chute on the next turn, because of the square he jumped on the previous turn. Micah quickly became so focused on controlling the game — avoiding the chutes and finding the ladders in the game — that he ceased to enjoy the play. We stopped in the middle of one of our games to talk about this. I explained how his attempts to control his game weren't really helping, and they were just causing him to not enjoy playing. When he quit worrying about controlling his every move on the board, he was able to return to enjoying it, even if he did have to go down a few chutes. He learned that those few chutes didn't determine the outcome of the game, nor how much he enjoyed the game.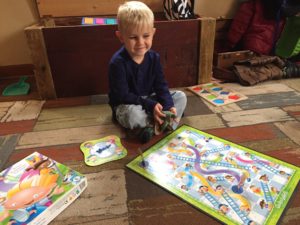 Isn't that just like life? Maybe it's just me. I know that I have spent large amounts of time trying to control each detail of my life to work out "just right," or worrying about each detail that feels out of control. But then the next turn, despite my careful efforts to control it all, I just ended up going down that darn chute. We can waste a lot of energy and thought worrying about things we can't control anyways so much that we don't enjoy life. Those things don't control the outcome for us either. But we are quick to lose sight of that. In the face of a job loss, a diagnosis, an addiction, an illness, a death, we can sometimes lose sight of the fact that it will all be ok in the end. I'm not saying that we must enjoy always the chutes of life. There are moments of deep grief and pain that must be endured. But we can't allow those to rob us of our foresight of the outcome, or of our joy at playing the game either.
Sophie's autism diagnosis has been hard for me. Really hard. But I'm learning that I can't let that steal my joy. There's still a whole lot to enjoy about this game, even though it looks different than I anticipated. This week in response to my pastor's message on giving thanks, I recounted the different things I had to be thankful for specifically because of autism, that I would never have been blessed by without this diagnosis.
There are people I have gotten to know who I would never have known. Many of them. And I am so thankful for each one. Multiple speech therapists whom I will always tear up when I think of, because they literally gave my child her voice. Patient, kind and gracious educational aides who have helped Sophie with tasks that no one but her mother should have to do. Teachers who have loved my little girl like their own, who have rejoiced at each hurdle she overcame. Little friends who taught this grown up about true friendship. I tried to imagine what my life would be like if I didn't know these people or hold these memories of them. It felt barren. These people have brought a richness to my life that I would otherwise not know.
And there are also so many lessons I have learned, ways that my faith has grown, because of this diagnosis. I have learned to live in today, and not the future. I have learned to trust in a deeper way. I have overcome fears. I have developed faith-filled friendships, some where I have walked before another mama going through this, and some where I have walked behind another wiser mama. I have learned to lighten up, and learned to be more patient. So while I may continue to rage at the brokenness of our world, I find that I can also be thankful to my God who is always "working all things for the good of those who love him who are called according to his purpose." Even for autism.
Whatever your chute is, can you trust Him enough to say thank you and trust anyways? Can you grab ahold of your blessings and your joy in spite of the bitterness of the slide? Thankfulness is a choice. It is an exercise in faith. It is a very good place to begin if you've lost your joy of the game for the chutes you've tried to control but had to slide anyways.