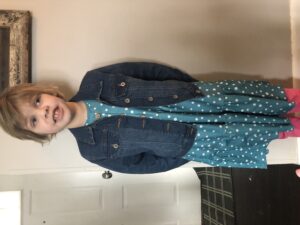 My sweet Sophie turns 10 years old this weekend. It's hard to wrap my head around. As this milestone quickly approached, it has caused me to reflect a lot on the last decade. Ten years. Ten years since our special needs journey began. I wish I could say it has gotten easier. And I suppose in some ways it has. But in many ways, it only grows more challenging as she ages. In the last ten years, I have seen in myself some of the most epic failures as a mom because it all just became too much for me. But the view from this ten years' precipice is a breathtaking view of God's grace, of growth, and of so much LIFE born from our struggle. There is beauty and goodness and a depth to my faith that would not exist without this journey.
So this I will say to you today as I reflect on our decade: Allow your struggles to draw you closer to Christ. He is right by your side. His hand is yours to take. He longs to walk WITH you. He longs for you to grow through your struggles, if you will choose to do so.
Faith alone has led me through the past ten years. It guides me today. And it holds all my tomorrows. Faith in the One who never changes with every sunrise and sunset, with every meltdown and medication change.
The Refiner's fire is HOT. Don't mistake that. We feel the heat in our struggles. But those times in the furnace are creating such BEAUTY in our lives. Truly, if not for all that I have grown through in Sophie's journey, I would not be where I am today. The faith that comes through in my writing has been grown on this journey. The heart that I share here on my blog is a heart led by a good Father through many difficult days, months, years.
As I returned to writing at the close of last year, God gave me a verse as a purpose for my writing. It has always been the reason that I write, but this brought new clarity to the fact that my writing is HIS, for his glory.
"You are a letter from Christ, the result of our ministry, written not with ink but with the Spirit of the living God, not on tablets of stone but on tablets of human hearts." (2 Corinthians 3:3)
God is writing the story of his love for me on my heart through our journey with Sophie. God is showing me his great power through my great weakness. And my life is a letter for others, I hope showing them the way to follow Christ.  So if you are struggling today, think about where you might be a decade from now if you take Christ's hand and say yes to what Jesus has for you in the journey. Yes, there is pain and heat, but there is SO MUCH LIFE, for you and for others who walk with you.
Here is a highlight reel of ten years of beauty. There were many difficult moments in between, but allow these to stand as evidence of a good, loving, faithful God who can grow your faith through any struggle.
Sophie is now in 3rd grade at our local school district. She lovingly calls the Principal, "my best friend." She is surrounded by a fantastic team of professionals who ADORE her and are always working hard and thinking creatively to help her reach her potential. She is growing a ton this year academically and socially! She has a best friend, and can often be found surrounded by a group of her peers. Her teacher has done an excellent job of fostering empathy in the classroom. As Sophie grows, some of her differences become more evident, but her classmates care for her so well. I am so incredibly thankful for this.
Last spring we added epilepsy to our long list of diagnoses after Sophie suffered multiple seizures one morning. Since starting medication, she has not had any more seizures. I am so thankful that her epilepsy has been easily managed thus far.
Less easily managed are ADHD and anxiety. Can I get an amen?! We are still working closely with her pediatrician to find the right combo of medicines to help our sweetie sleep well every night and combat these two giants in her life.
I don't know what our year ahead will hold, but I do know the One who is holding our every moment. Looking back over this decade as a whole, I am more thankful than ever that God chose me to be Sophie's mom. Although there is a lot of hard, there is so much growth, so much life that has come through her journey. Take time to reflect on your own journey today. God is doing amazing things if you take the time to see them.