This morning my beautiful butterfly said these amazing words to me: "I'm good at talking." To me, this sums up exactly how much she has changed in a year. Not only can she speak fairly well, with a huge vocabulary and complex thoughts, but she is confident in her ability. This is wonderful!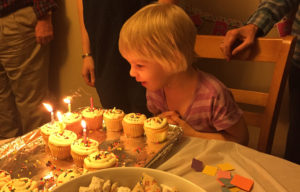 With her recent birthday I've already been very reflective on her past year. But we are also engaged in the process of trying to decide her placement for next school year, so my processing has been in overdrive, and I've had many conversations with people who know Sophie well and care about her future deeply. So many beautiful realizations emerging!
Sophie hasn't had an incredibly academic year, which caused me some concern initially when pondering her placement for next year, but as I've reflected, I've realized the many other areas she's grown which are equally essential for her future success.
* She's substantially more toilet trained than she was even six months ago. Although we still have occasional accidents, we've said farewell to pull-ups!
* Her fine motor coordination has increased in many ways — from scissors and glue and crafts to dressing and undressing.
* Socially she has exploded with confidence. Even though she still often struggles to converse with peers, she's aware of what should be said and done in social situations. And she grows more and more comfortable relating to people outside her immediate circle. The more I talk with her educators, the more I hear how important the social aspect of development is for success in school.
* And of course, her speech has exploded continuously since she began to speak 18 months ago. (Was that really just 18 months ago?!) Her vocabulary is just so big, and her sentences have become more and more complex.
So many wonderful gains! I'm so proud of my girl!
So now we are in the difficult place of deciding where to send her for school next year. We have two options, if you're curious.
*  We can send her back to preschool to an all day class that is only for 5 year olds who need a little more time before kindergarten. There are no brand new three year olds in this class (nor even four year olds), so the teacher is able to accomplish a lot more academically in the day. Plus, the day is longer, allowing more time for learning. She would be remaining in the program we have loved for the past two years, but in a class more appropriate for her age and more challenging for her as well.
*  Or, we can send her on to kindergarten in the general ed classroom in our school district. This school is a block and a half from our house, which is fantastic. But wow! kindergarten! Yikes! I had all but ruled this one out as we began the discussion of where Sophie should go, but some of her educators do feel that she is up to the transition.
The weight of this decision feels huge! There are pros and cons to both choices. And I'm trying to keep in mind that both would be good choices — not one right and one wrong choice. (And of course there's the emotions of pregnancy clouding my rational thought, which helps nothing!!) We meet with her "team" of teachers next week to get their input on the best placement for Sophie (how amazing is it that she has a team of almost 10 people who are concerned about her future placement and invested in her growth?!). I hope this meeting will give us insights that will help us make this difficult choice. Above all, we really appreciate your prayers as we make this decision.
Standing on Jeremiah 29:11 "'For I know the plans I have for you,' declares the Lord. ' Plans to prosper you and not to harm you. Plans to give you a hope and a future.'"
And James 1:5 "If any of you lacks wisdom, you should ask God, who gives generously to all without finding fault."
We know that God will lead us and help us to make the best decision for our sweet Sophie girl! I'll keep you posted on the decision……..