I read this meme recently that shook me up a bit. It said, "You get 18 delicious summers with your children. This is one of them. Soak it in." Wow. 18, huh? When you put a number on it like that, it does tend to give you some perspective. Who am I kidding? I already know just how quickly time is flying by as I raise my three monsters. But this meme made me feel all this pressure to have a memorable summer. So right out of the gate (it's summer break day 4 today) we've been "making memories." On day one we walked to the school playground, play outside with a neighbor, had an indoor picnic for lunch. On day two we had an outside picnic and attempted a farmer's market. And that's where the real memory making began….
This market was one that I hadn't been to before, but I had heard good things about it. It's a mid-week market, and about a fifteen minute drive from our home. I should have seen the red flags flying, giant ones, whipping in the wild winds of chaos in my home. Everyone was already grouchy. And then I decided to "make some memories" and drag them to a farmer's market. "There's free stuff for you kids to do!" I promised with a smile.
I could feel wisps of anger beginning to churn in my belly as we loaded into the car and the whining intensified. When your kids are two, five, and seven, everything is a race or a competition with a clear winner and a distinct and much shamed loser. Even opening the door to the van. Insert eye-roll. And of course it was too hot. And someone didn't get to do it exactly how they wanted. More red flags flying before my eyes. But I persevered.
Must. Make. Memories. 18 summers. Only 18.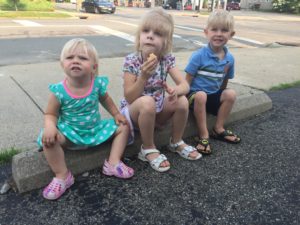 When we pulled up to the lot where the farmer's market was held, I literally almost drove right by and took the kids to the park. I mean, how many red flags did I need to abandon ship? Evidently more than the dozen that had already flown in great billowing capacity in my mind. This market had all of five or six tents. And NO. Fresh. Produce. What!? A huge part of my motivation in coming out was to get some fresh produce partway through the week. I grew up on fresh fruits and veggies, and in the short growing season of Ohio, I want to cram as much flavor in my mouth as I can. Evidently in this smaller community, none of the local growers are ready to sell goods yet. Still I persevered. Must make memories.
We quickly found the kids' tent where the much acclaimed free activities were located. And this portion of the experience was lovely. For about 7 minutes. The kids excitedly decorated a plastic cup, filled it with dirt, and planted a seed. They were delighted to spritz the cup with a gentle mist of water to moisten their newly planted seed. Then they turned their attention to the play doh area which was full of interesting fake natural adornments such as birds' eggs, silk flowers and greenery, rocks, and bark. This kept them occupied for 2.5 seconds. Then came the question I knew was coming. "Mom, can we buy a treat?" Of course. I knew when we pulled up and saw so few tents that their eyes would immediately notice the tent of homemade baked goods. I doubted I could get away with buying them nothing. Although the fancy cupcakes looked absolutely delicious, I limited them to a large sugar cookie each, for which I had to pay a small fortune.
With nothing much more to see, we started to head for the car. Although the trip was underwhelming and shorter than planned, it hadn't been terrible. Until that moment.
"Mom, I want to go over to that truck with the ice cups."
"I'm sorry, son, we're not going to buy an icee. You just got a cookie."
Wild crying. "It's so hot. I'm so thirsty. I want some ice!" More wild crying.
"I'm sorry, son. You should have told mommy before I bought you a cookie that you wanted an icee instead."
More angry crying.
There are a few things that make my blood boil pretty quickly. One is a fit thrown after mommy has tried to "make memories" and done something special for the kids. Cue boiling blood.
As if one fit-thrower wasn't enough. The littlest monster decided to join in because she had to hold my hand in the parking lot. Oh, the horror.
And, big sis decided she may as well join the mayhem, whining over the lack of water because mommy had not thought to bring any. And that was the last straw.
"I'm sorry Mommy doesn't have any water for you guys. I was planning to buy fresh fruits and vegetables, not sugar cookies, so I didn't know we would need water!" I ranted.
After many tears and more stern words about being thankful for an outing instead of throwing a fit, we were all inside our hot stuffy van. Had this been the end of the journey, we may all have survived unscathed. Unfortunately, we had an errand to do on the way home. Dun-dun-dun. All the mamas know that doing any errand with the all the babes when they are cranky and parched with thirst is the actual worst.
Into the Dollar General we went to buy buns for dinner. You see, I had forsaken my original dinner plan so that I could take them to the farmer's market, all in the name of these unholy memories we needed to make. So now it was a quick dinner on the grill that we had time for, but buns we did not have.
Of course they saw the drink cooler by the cash register and began that awful whining that makes a mama twitch like a crazy person. I instructed the boy to grab a water for them to share. The baby went into writhing hysterics because I would not put her down and allow her to get in to all the many items nearby, and I would not let her hold the water bottle. And then of course there was big sis. She alone in a store is a handful. Her sensory issues demand that she touch and feel every last item she sees. Her ADHD runs rampant and she cannot listen to me to save herself. If I thought my blood was boiling before, I was wrong. Now all of me was boiling. It is truly horrifying when your good sweet children act so very badly in public. I gave them a stern talking to as we made our way to the car and they took turns quenching their desert dry mouths with that bottle of water that cost more than an entire bag of hotdog buns. Oh the memories.
I came home from this memory making excursion totally defeated and feeling like a failure. I should have been more patient. I should have maintained an ounce of humor over the whole thing. A couple of days later, I can laugh about it. It certainly wasn't the kind of memory I wanted to make with my children that day, but indeed a memory was made. And all I felt as I reflected on this harrowing tale is how much Jesus I need.
It's not so much the memories we can make, the experiences we can have, the parks we can go to, the picnics, or the farmer's markets. None of that really satisfies our souls. And when we try to fill ourselves and our children up with these experiences that just leave us thirsty, parched for something more satisfying, I think we're missing the point. Doing life with my kids is enough. Teaching them about Jesus, leaning in to life WITH HIM is what satisfies. He is what makes my 18 delicious summers with my children satisfying and wonderful and meaningful. If we did special things every single day of the summer, this would not equal giving my children a meaningful childhood. What's meaningful is living life with them and leading their hearts towards Jesus. I think what was worst about this whole day was that I felt like I hadn't led my children towards Jesus at all, but instead sped down the highway to hell! So for all of you folks out there basking in your delicious summer with your children, more power to you. We are just going to be over here taking it easy and soaking in some Jesus and loving on each other. I know that the meme which sparked this whole bout of nonsensical pressure in my mind is well-intentioned. As moms of littles we tend to function mostly in survival mode. And maybe that's why the writer of this meme wrote it to begin with — maybe she spent too much time in survival mode and she regrets it. I hope I don't regret how I'm spending my time with my children. I hope I play enough. I hope I'm a good mom. But I know for darn sure I will regret it if they don't see Jesus in me and meet him in our conversations and interactions. Simple. Sweet. Living and loving. Jesus. That's what I want this delicious summer to taste like.