One of the deciding factors for us in keeping Sophie in preschool for another year was her fine motor skills, specifically her handwriting. Her educators were faithful to reassure me that handwriting emerges at all different ages, like many other skills. But it was definitely a skill I felt she should have some emergence of before entering Kindergarten. And she did not. Until this summer, she really couldn't even draw a circle. She was mainly still just scribbling. This is a delay that we expected for Sophie because of her low muscle tone. Her hands have been an area of low tone and delayed development in other skills as well. In addition, writing requires heaps of motor planning, which is also difficult for Sophie. Handwriting was included in Sophie's IEP goals last year, and she worked all year on writing, but the scribbles continued! I was discouraged by her limited progress with this goal.
As with all things, Sophie has once again shown that she is on her own timetable and will do things when she is interested and ready. Once school started this fall, she became very interested in writing, but she was still not able to do it. The magna doodle became her best friend. She scribbled and scribbled trying to figure out how to form letters with that pen.
As her OT rolled out at school, her therapist suggested that we use some other modes for learning the motor planning piece of writing, such as using a tray of rice for her to form very large letters in with her fingers so that her brain could learn the movements. We jumped right on that and made a huge mess in my dining room. And she also did similar activities in her classroom and during therapy.
So school has been in session now for about six weeks. And this week Sophie surprised my socks off one afternoon. We're all playing on the floor, and I hear her talking to herself (she does this frequently and her conversations with herself are a stitch!) while she's playing on her magna doodle. She's saying this is a "P" and this is a "D." I look over and, low and behold, there are real letters on her magna doodle!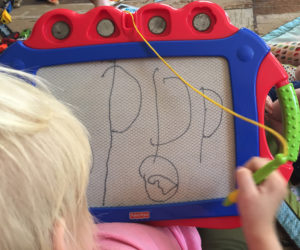 I praised her excellent work, and she invited me to come and write with her. She wanted to show me all her skills. Just like that, in a day, she can write many letters — D, P, b, H, h, I, i, O, M, E, e, etc — when six weeks ago she could only draw a circle! The switch flipped! Amazing! I'm so proud of her! She can write all of the letters in her name except for the S. S is tricky! So I help her with the S, and she's practicing by tracing the one we do together over and over again. But the rest she can do all on her own.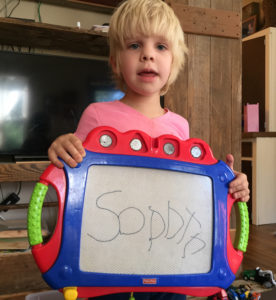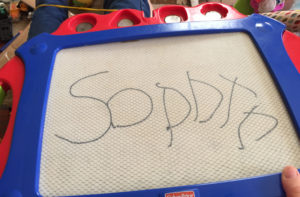 She's also drawing faces now, which is great. The faces crack me up!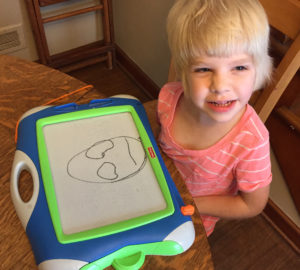 And there's one picture she does often that Micah calls "the bathtub with legs on it." I'm not sure yet what it is. Maybe a bathtub with legs on it.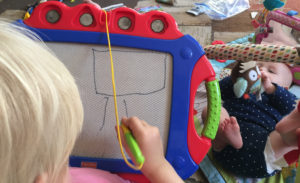 I'm thrilled to see Sophie making such great progress already in school this year. This totally reaffirms my decision to keep her in preschool for another year of growth and development. And seeing her achieve such a huge milestone so early in the school year does also take some of the sadness that I had felt out of that choice.
I'm so proud of Sophie. Things have never come easily for her, but she never gives up. It's so interesting that so many things do come so easily to her brother, and he is so much quicker to give up. He sat down and was writing most of his name the first time he tried at just 3 years old. Kind of made me mad how easy it was for him! All the while watching Sophie struggle!
But she has learned perseverance through her difficulties.
Isn't that straight out of James 1? "Consider it pure joy, my brothers, whenever you face trials of many kinds, because you know that the testing of your faith produces perseverance, and perseverance must finish its work so that you can be mature and complete, not lacking anything." I guess I can see what James means now. It is the trials, it is the difficulties, that teach us how to persevere, how to press on anyways. And we need that skill. We need to be able to get back up again and again when we've fallen or been knocked down, when something is so difficult we don't think we'll ever be able to do it. Once again my Sophie girl is teaching her mamma the lessons. I'm so thankful to be a part of her story.