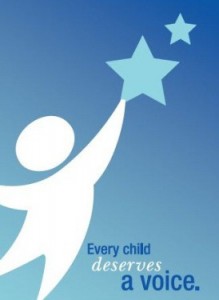 On the whole, my daughter is a happy kid. She's a good listener, helper, and general sweetheart. Yet, while I imagine on some level Sophie has accepted her world the way it is because she's never known any different, I also cannot believe that she hasn't noticed her differences and felt some pretty intense frustration in the world of communication. Our integration of American Sign Language into our home has greatly eased her frustrations, but lacking and learning speech itself have still caused much frustration.
I've tried to imagine what it would be like to not be able to speak in a world where speech is utilized constantly. But I can't imagine it. I just can't. The closest I have been able to come to imagining what Sophie might be feeling is to imagine if I were completely color blind, walking through an art gallery or a beautiful park, listening to others discuss the colors, but not being able to enter in or appreciate the color myself. I can see the objects, I can appreciate their forms, but I can't rave about the oranges of the leaves in the fall or the blue of a summer sky. I would feel like I had very little to offer in that world. So I probably wouldn't say much at all. Sophie can hear and understand the spoken world around her, but she can't enter in to it. I wonder if she feels she has nothing to offer at times. Yet, in her mind she knows she has thoughts, feelings, opinions, emotions, about everything. She wants to express herself, but she can't. Frustration.
Up to a point, I think Sophie just assumed her words were coming later. But, my son, on the accelerated life-train, began to speak before 9 months of age. At 14 months, he will repeat anything he hears. This is Sophie's art gallery or nature walk: Right in front of her face her little brother is getting his words, but she doesn't have hers. Sophie will literally open her mouth to try and say something, and nothing will come out. You can see her mouth working, air being expelled, voice on, but the right words are not coming. Children with Apraxia know what they want to say, but the words just won't come. She's knows it's a simple word; she sees speech as easy as breathing for the rest of us. Frustration.
When we sit to do her speech exercises Sophie tries so hard. She works. She knows the sounds in her mind. She wants to say them. But it's hard work. One day in a moment of clear frustration during speech exercises, Sophie melted down, and I asked her if she wanted to get her words. Maybe it seems like a foolish and frustration-inducing question, but, Jesus often asked those he was going to heal if they wanted to get well. Wanting it is very much a part of the equation. And I think there was a time when Sophie maybe wouldn't have said yes. But this time, she nodded, sadness and frustration on her sweet face. Yes, she wants her words. Frustration.
My heart breaks in moments like that. But then I have the chance to pick up my mom-poms and tell her "You. can. do. it. You. will. do. it. Your words WILL come, sweet girl. But we have to work." And in that moment I talked to her about how Jesus can enable her to do all things. All things. I told her I believed her words were going to come because Jesus was faithful to help us. But sometimes in life, we have to work for what we want. At just 3 1/2, Sophie is having to work far harder than the average child to do something that comes as easily as breathing to most.
The verses in James about perseverance are ones that I claim over my sweet Sophie's life: "Consider it pure joy, my brothers, whenever you face trials of many kinds, because you know that the testing of your faith develops perseverance. Perseverance must finish its work so that you may be mature and complete, not lacking anything. If any of you lacks wisdom, he should ask God who gives generously to all without finding fault, and it will be given to him." (1:2-5) It is verse 5 that we chose in naming Sophia, which means "wisdom." We trust that God will give her and us wisdom to navigate these difficulties she faces. The frustration is real, but it pushes us forward. And as we persevere through apraxia, we know it will not be without benefit to us and to Sophie.