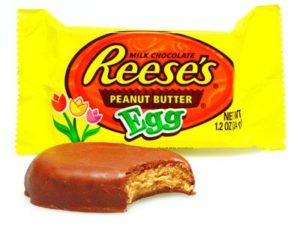 Last week I shared with you an object lesson I used to teach my kids about grace. They received a peanut butter egg even when they behaved badly and didn't deserve one. This, I taught them, was grace. If you missed that post, you can read it here: https://catherineburleigh.com/devotionals/peanut-butter-easter-eggs-of-grace/
It occurred to me as I further contemplated this object lesson that there was a piece of the lesson I hadn't unwrapped — the unwrapping of the egg. At the end of my post I touched on the invitation to open and enjoy the egg. But I didn't delve in to what so many of us do with the grace that is offered to us.
We leave the it sitting on the table unopened. Unenjoyed.
You can imagine that when my children received their peanut butter egg of grace, they didn't just leave it to sit on the table. I would have thought they were nuts if they did!
Can you imagine a child saying to his parent, "Wow, that's so nice, Mom, I think I'll just admire this treat on my shelf rather than eating it." Or even more shocking: "No, I really don't deserve this treat, so you can't give it to me." As parents, we would be shocked to hear this response to the offer of a treat. The treat is meant to be opened and enjoyed.
My kids didn't save it for another time.
They didn't fuss or moan about how unworthy they were.
They didn't try to tell me, the giver, that they were unqualified to receive the egg.
They eagerly opened it up and devoured all its goodness. They simply enjoyed the grace that was given to them.
So many of us carry around this same type of arsenal of excuses as to why we're unworthy of God's grace. Why we leave it sitting on the table unopened.
But the fact of the matter is that it is HIS GRACE TO GIVE.
He is the one who determines who receives it — and he offers it freely to all. It's not up to us to decide if we are worthy of his grace. Of course we aren't. That's the whole point. Yet we seem to allow ourselves to believe that we can't receive his grace because our own merits are lacking. Grace is a gift, free and clear. If we don't allow ourselves to receive it because we're unworthy, then we are missing the point altogether.
It's not meant to be admired from afar. It's meant to be consumed, taken in, enjoyed fully.
Don't leave God's grace wrapped up, sitting on the table. Don't save it for another time. Don't make excuses and whine about how unworthy you are. Just enjoy it. Unwrap the grace and be thankful for a God who loves you and lavishes grace upon you.