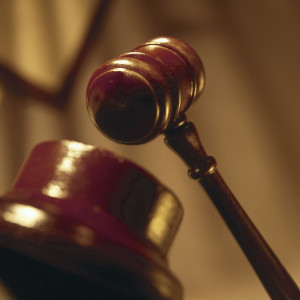 I've been crushed in recent weeks under the weighty baggage of self-judgment. I'd like to imagine that I'm not the only one hearing that gavel pounding in my mind: Not a good enough mom; not a good enough wife; not a good enough friend. The reasons for these judgments go on and on, but I won't take the time to vent them all here. Suffice it to say, in my own eyes, I have been constantly falling short. I have been hating every moment of feeling like a failure. Sure, I've made legitimate mistakes every day in the past few weeks. But this weight of judgment has been something to be reckoned with. It's deeper than just a short upset over a wrong choice or a harsh word. The Bible teaches that there is a good guilt, which leads to repentance, but there is also another guilt that comes from the pit of hell. It tries to tie you up in chains. It tells you you're a failure. It steals your hope. It steals your joy. This is the guilt of self-judgment.
Partly I know that, for me, this season of motherhood is just so consuming; it's easy to feel like a failure because I took 15 minutes to wash the dishes so that we'd have plates and silverware to eat off of, rather than spend those 15 minutes frolicking with my children. (Do you hear that logic there? It's solid, right? Right.) Mom guilt is just everywhere. I have no Christmas crafts from Pinterest to post to my Facebook. I hear my own angry tone reflected in my son's echoes. I see the tears that I caused by my overreaction. Sigh.
Yes, mistakes happen. But they are not meant to weigh us down like heavy baggage.
In Romans 14, Paul is talking about how the Christians were judging each other for their differences — it began with Jew and Gentile, but it moved on to things like which foods were acceptable to eat, and which holidays were important to celebrate. (I wonder what Paul would have to say about our current holiday debates???) Tucked in this discussion is a verse that brought me so much freedom from my own harsh judgments. Verse 4 declares, "Who are you to judge someone else's servant? To his own master he stands or falls. And he will stand, for the Lord is able to make him stand."
To my soul I heard the soft voice of the Lord: You ARE SOMEONE ELSE'S servant. You are NOT your own master. You do not judge yourself. You stand before me, the Lord, and I AM ABLE to make you stand.
What a sweet relief.
Even if we are displeased with our own efforts and see room for improvement, this verse clearly shows me that I am not even to be my own judge (let alone someone else's).
Even if I'm falling short in my own eyes, I know that I stand before a loving Father who is able to make me stand.
Even if I am not enough, his grace is enough. His strength is enough. He is enough.
No matter how you find your own self falling short these days, know that your master is able to make you stand. He alone is your judge, and he has spoken grace over your life.