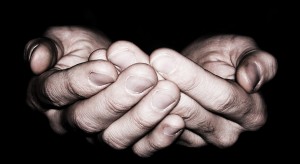 The return for my prayer of thanksgiving has been a deep welling up of hope in my heart. It's deeper than a hope that this speech disorder will someday be a distant memory and that Sophie will speak with the eloquence of a great orator. Of course my heart hopes for those things. But this hope is different. This hope is not marked by instant happiness, or even by lightness, necessarily. But it is marked by perspective, and it is marked by peace — an abiding peace which moves with me through each day, giving me the grace and compassion to be okay with our "right now." It doesn't remove my sadness. It doesn't always ease the pain, but even in the midst of the pain and sadness, I feel this deep current of hope, of peace, in my soul. This hope extends beyond this world and into the next — the one we were truly created for.
I believe that one day Sophie will stand before her creator and bless his name, out loud, in perfect eloquence. I believe until that day he will hold every one of her tears and every one of mine in the palms of his nail-scarred hands. Because of what Jesus has done for you and for me, we can all have this hope that extends beyond and through and deeper than the heaviness, the pain, the sadness, the brokenness of this world.
This is my hope. All others will disappoint. If I hope for speech, I may be disappointed on this earth. But when God created Sophie, he created an eternal soul, a sweet girl who can live forever, in perfection, because of Jesus' sacrifice. Although she is bound for a time in this life by a speech disorder, that says nothing of her eternal self. Oh to have the eyes to see this truth in all human beings around me. Thirsty souls, meant for something so much more than what's here.
If I just focus on what is seen, the here and now of this life on earth, well, it's a bit of a downer. But when I feel this hope, when I know with all that I am that there is another reason entirely for our creation than this earth alone, then life makes much more sense, and I have every reason to be okay with apraxia. It is a "light and momentary trouble" that  is "achieving for us an eternal glory" (2 Cor 4:17).
No matter what you are facing today, I pray you know in the deepest places in your heart that there is hope. Hope that extends beyond this earthly existence. Philippians 4:6&7 promise that when we present our requests to God, with thanksgiving, that "the peace of God, which transcends all understanding, will guard [our] hearts and [our] minds in Christ Jesus." This hope, this peace, is the fruit of my prayer of thankfulness.