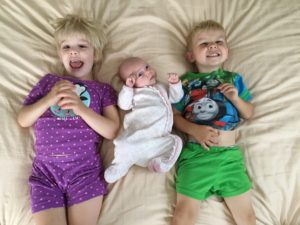 We recently brought home a new baby. A sweet little girl. At six weeks old she pretty much has down the eat, sleep, poop routine. She makes a lot of laundry, and a lot of dishes, mainly bottles, to wash. In just six weeks I've learned that there are two types of bottle brushes in this world: those that CAN and those that CAN NOT. Because our sweet baby came a week early, there were a few items that were not yet purchased or readied for her arrival. The bottle brush was one such item. So I asked my dear husband to pick one up when he went out for groceries. He made some flippant remark about the ones at the grocery store not being good enough, but I insisted we "just needed one right now" so he should get what they had. And so he did.
Let me tell you, this bottle brush was one of the CAN NOT brushes. It was an epic failure at its life purpose. I mean, a bottle brush has essentially one job to do: Clean the bottles. Right? It's not like I'm asking it to scour my pots and pans or fix dinner. It would be like a fly swatter that was unable to kill bugs, or broke after the first swat. The spongy part on the top of this bottle brush ripped off within a week of use. A week! Come on!
When I brought home the second bottle brush, similar in nature to the first, my husband questioned my logic. If the first one proved a failure, as he had predicted, why would I buy another one? Because, simply put, I am Marian Halstead's granddaughter. Why would I ever spend six dollars when I can spend three? (Since most of you don't know my grandmother, I'll add that she was the type of lady who washed and reused her tin foil, her plastic baggies, and — get this — her saran wrap! Seriously?! I don't even like to deal with it the first time around, let alone to wash and hang up to dry, then fold and store to reuse the darn stuff! Oy! That was my grandmother. Frugal to the core.) Although, if you're doing the math like I am, you're realizing that two bottle brushes at three dollars does in fact equal six… So… we can chalk that one up to sleep deprivation?
So anyways I brought home the three dollar bottle brush. And what did I get for it? Well, this one did last a wee bit longer than the first, maybe two weeks, but it did me a worse wrong, because it cracked in half while I was using it, the entire scrubby portion disattatching from the long handle. So here I am with my fingers pinching this short stubby bottle brush top trying to wash out my bottles. Insert eye roll. It was an obnoxious way to waste my precious time by making the bottle washing process even more laborious. When my husband came home from work and I showed him what had happened, he chuckled at me and insisted on buying the "nice" bottle brush. Amazon Prime will have it here in two days. Perfect. Until then I tweedled with the insy-weensy top of my bottle brush to get the job done.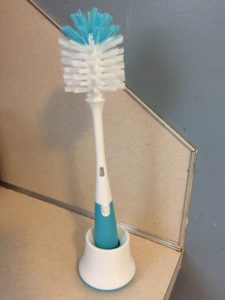 So I've been using my new bottle brush for about a week now. It's so luxurious, guys! I love it! Not showing any signs of breaking down, this one. It is definitely a CAN bottle brush. It can fulfill its life's purpose with gusto. And I am pleased.
So as I washed the bottles tonight this really got me thinking about what I'm investing in, other than stock in the bottle brush market. Is it the cheap-o stuff that really just CAN NOT make me a better person, or is it the CAN stuff, which will fill me and feed my soul?
I feel like I don't have a lot of free time right now, but I do spend a lot of time feeding my baby, which requires me to just sit and be. While I am often using this time to referee my older children, there are many minutes where they are entertaining themselves, and I actually do have some quasi-free time. Imagine that. So I'm evaluating what I do with this quasi-free time, because I kind of feel like my life is complete chaos right now, and I don't really like it. Some of that just goes with the territory of having a new baby at home. We are all adjusting and finding our way to her addition to the family. I am sleep deprived and not functioning at my finest. And before you try to tell me not to be too hard on myself, trust me when I say I'm not. I recognize the transition we are in and that there is much grace for my shortcomings. However, I would still like to do my best through this transition. I would still like to bring my A-game as I raise these precious babies that God has entrusted to me. And I don't think even my C-game has been showing up. Nope. And I'm not good with that. So, back to my free time which I was evaluating. I'm realizing that I'm filling it up with a bunch of meaningless time-wasting junk (aka, playing on my phone, darnit). Not exactly a soul-filling activity.
There's a passage in Isaiah that says, "Come, all you who are thirsty, come to the waters; and you who have no money, come, buy and eat! Come, buy wine and milk without money and without cost. Why spend money on what is not bread, and your labor on what does not satisfy? Listen, listen to me, and eat what is good, and you will delight in the richest of fare."
Why, oh why, am I investing my time in stuff that does not feed my soul?
Just like the bottle brushes, there stuff that CAN feed my soul and stuff that CAN NOT. The stuff I'm filling my time with just CAN NOT cut it, just like my cheap-o bottle brushes. This stuff won't fill me up to meet the challenges of my day. But God's Spirit, his Word, those CAN. I don't want to settle for the three dollar fix that just can't cut it. I don't want to spend "money on what is not bread" and "labor on what does not satisfy," to invest my time in that which will never feed me. It's like I've been using the lousy bottle brush time fillers instead of investing in what really works — spending my time in God's word, in prayer, in worship. These things will do the job to fill me up, to make me capable of the tasks before me. No more wasting my time tweedling around with stuff that's less than, that's in the CAN NOT category. Time to invest my time in a way that feeds me and fills me.