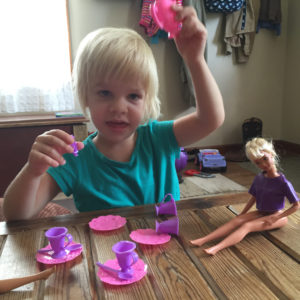 While Sophie is on summer break from preschool, we've been working on potty training. I'm realizing it's as much a training for me as it is for her. I think she's going to be one of those kids who always needs accountability for a while. With the start of school closing in, I've been much one diligent in my efforts. So, we have this sticker chart, because Sophie loves sticker charts, and we needed a way to moderate the number of prizes she could get. Let's just say, our past efforts at potty training have gotten too pricey. So, when she gets 10 stickers, she gets to go to the Dollar Tree and pick out a prize.
Today we reached the 10th sticker, and she was elated to go and get her prize. Some visits to the Dollar Tree take an eternity because she cannot decide which trinket she wants to bring home. Today's visit was very prompt. We walked in, and she spotted a little plastic tea set and said, "This is it. Let's go pay." And so we did.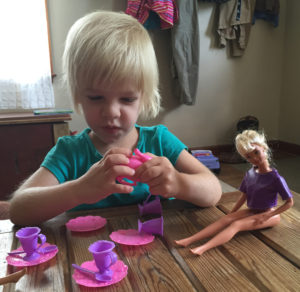 She didn't want to wait in line and tried to force her way in to the belt with all of her 36 inches and 35 pounds of strength. Fortunately, the man ahead of us was a kind grandfatherly sort of fellow. He cheerfully said to my little line ditcher, "Hello, how are you? What's that you've got there?"
Sophie answered (to my great surprise because she rarely dares to speak to people she doesn't know well, out of anxiety, or because she is ignoring them), "It's a tea set!"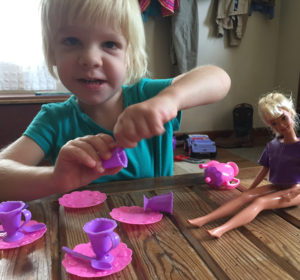 He matched her enthusiasm, "A tea set?! That's wonderful!"
"It's wonderful!" She replied.
He then turned to me and asked, "How old is she? One and a half?"
One and a half? She's 35 pounds! At first I really wanted to be upset. But, I have prepared for these moments and promised myself that I would be gracious towards others. So, I replied, "No, she's four. She's on the small side, I guess."
Without missing a beat, he said, "Oh! Yes, well, I was going based off of her speech."
Again, I had the opportunity to be upset and hurt. Because I know how much progress we've made in a year. But, I promised that I would be gracious, and now I had an opportunity.
"Well, she actually has a speech disorder. One year ago she was not able to say one single word. So she's made a lot of progress this year, and we're really proud of her."
His response blew me away: "Oh! Well, praise the Lord!"
"Yes," I agreed, "that's what we do."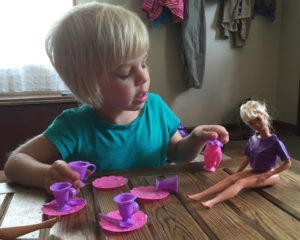 "What's her name?" He asked me as he prepared to leave the line for the door.
"Sophie," I answered.
"Sophie, it was nice to meet you," he said with a wave.
"Tell the nice man to have a good day," I instructed Sophie.
"Have a good day!" She beamed.
God orchestrated an opportunity for me today, while I'm up to my eyeballs canning green beans, to go to the store and meet this man. Some people wonder why bad things happen, like a speech disorder, a disability, an illness. But I don't wonder. I know. It's for moments like this where I can share our story so that a perfect stranger has a chance to glorify God with us.
You can watch a video of Sophie enjoying her tea set which will always remind me of this beautiful encounter: sophie_tea_video2