Today is a day I want to remember for many reasons. So many moments to keep on the tablet of my heart. Andrew is soon to depart for China, so we are enjoying some extra family time this week. Today we accompanied him on a work trip to the Equine Affair at the fairgrounds.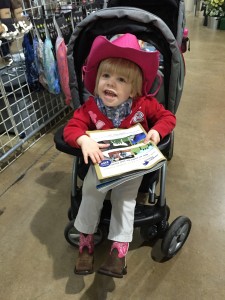 Sophie was delighted with the horses. Her squeals were priceless. Her brother lounged in the stroller. He pointed excitedly at the red and blue flags flying over the gyro stand. We strolled through one of the warmest days of spring thus far. A perfect morning.
Afterwards, we enjoyed lunch out at a restaurant with both children for the first time. (Yes, it really did take us 10 months to get out to eat as a family of four.) Micah ate his applesauce with glee. Sophie enjoyed her first milkshake. After we got home, we played outside on the wet sidewalks. Sophie splashed in the puddles in her bare feet. Then she put her hands in the puddle. Then her hair. Sigh. Micah road on Daddy's shoulders, bouncing and giggling as Daddy jogged around. Beautiful. It would have been a great day if it ended there.
Sophie was very chatty through the whole afternoon, that nonsensical chatter that we love to hear. When Andrew and I were in the kitchen fixing dinner, she came running into the kitchen holding her Current catalog (her VERY FAVORITE reading material), and she babbled out a very distinct string of consonant-vowel sounds. She obviously had something to tell me about that catalog. I was impressed. But she's had days like this before. She's chattered away for 48 hours or so and then her silence falls again. Still, my breath caught in my throat when her babble produced my favorite sound: Mama. She looked up at me, holding that blessed catalog, and excitedly said "Mama." Of course I said "Yes, honey!" And she babbled on about her catalog. What a conversation.
Later in the evening I couldn't fight the urge to see if it was a coincidence, just a random sound in her babble. And so I asked her, "What's my name?" to which she sweetly replied, "Mama." I fought the tears all evening, each time Andrew asked her to say "mama" or she told me my name. My heart is so full. And whether she wakes up tomorrow saying it or not, I know that it was not just babble. She intentionally produced sound today, the sound of my name. I hope and pray that the babble continues, and that the sounds become more intentional, that this is the start of something beautiful. But whatever tomorrow brings, this day is forever on the tablet of my heart. It's the day my sweet girl called me by name.