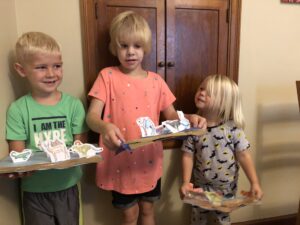 As many parents faced the difficult decision this summer about how to choose schooling for their children, I made the choice to jump headfirst into the deep end. I chose homeschooling. I chose this not because we've been unhappy with our local school. On the contrary, they have been some of the sweetest, most supportive and encouraging people I could ever ask to have on my team as I raise my autistic daughter. I knew that homeschooling her would be difficult, but I felt that in making this choice, I could provide the one thing for her that the school could not promise this year, because it, too, was beyond their control. I could provide her with consistency. No switching between school formats. No blended learning, with this day being one format, and that format another day. No potential for weeks of virtual learning. (Can I tell you how much my kids LOVED virtually learning?! They did not.) I chose consistency and control over what my children would be learning this year when I chose homeschooling.
It has not been without much grief over the loss of such a wonderful team who has helped Sophie grow the past two years. (And Micah, too!)
Today as we headed out for a walk, we heard a car slow and pull near. As I looked over, I heard a familiar voice, "Hi Sophie-Girl!" And there in her black SUV sat one of Sophie's special ed helpers. I was surprised by the onslaught of emotion I felt as we talked for a brief moment about how much we miss school and how the school team misses Sophie. I told her, "We may be back. It has been really difficult working with Sophie with no support." I fought the tears as she pulled away. I felt alone. I felt the loss of a great team.
As we resumed our walk, Hannah (three) called out to her big sister, "Hey Sophie! Wanna hold my hand?!" They walked along, hand in hand. This made the tears come faster as I felt God's whisper – "You are never alone." The support looks different this year, but I am not alone in this journey. God placed the exact people in our family who were meant to be Sophie's teammates and mine. He has also brought numerous friends with years of experience in homeschooling alongside me, as well as a few who are new to the adventure. I am not alone in this. Yes, we need to get some therapies in place to support her growth, and we are working to do that. But God knew what he was doing when he chose us to be her family, her team, her cheerleaders, and led us to choose homeschooling.
Micah recently told me he thought I was the "perfect mommy" (which of course touched my heart), but I reminded him that I'm not perfect, though I try really hard to be a good mommy. He said, "Well, then maybe I should say you're the perfect mommy for this family." I don't often feel like I am measuring up, but I am doing my best to be faithful. My word for the year: "faithful." I'm thankful for the reminder that God did choose me for this task, and I'm thankful for reminders like our walk today that I'm never alone.
Do you feel alone in your journey right now? So many of us are walking paths that we would never have chosen for ourselves. But God did choose them for us. And he is good. Praying today that you feel a sweet reminder that you are not alone in your journey either.