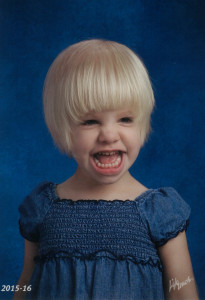 Last night and this morning I felt the dark cloud of discouragement, and despair, even, forming within my thoughts. Yesterday was Sophie's IEP meeting, and while the team supporting and servicing her is totally awesome, it's tough focusing on all the ways that she's behind, or different, delayed, or disabled. Just hard. Period. She now has been labeled as a child with multiple areas of disability, receiving services in speech, occupational therapy for fine motor issues, and adaptive PE for gross motor issues. I confess, I thought of the many, many children born to all my friends, and so many of them are normal. On IEP days, I feel anger about that. I'll admit it. When I'm forced to zero on on Sophie's differences, when I'm forced to play the dangerous game of comparison, my heart feels troubled. I have to do it every now and then. But at the same time, I know it's not where God wants me to live. This morning, I prayed, "Dear Father, just help me to be ok with today. That's all I need to do. I just want to be ok with where we are today." It's a prayer I know I've prayed many times. I'm struggle, today, to be ok with Sophie's differences. But I'm fighting to see and hold on to the many blessings that God is showing me in the midst of the struggle. So here they are…
Sophie is blessed to be part of an incredible program at Lancaster City Preschool, and to have a fabulous teacher and aide there. Sophie's teacher spends a great deal of time working with her and doing those "extras" that all teachers do, for my child. She and her aide are sweet, and nurturing, and so exceptionally kind. Her private speech therapist and public school therapist, her occupational therapist, and her adaptive PE teacher are dynamic, down to earth, and skilled at what they do. She is blessed to be in their care.
Sophie has made friends. As I have struggled with this possible diagnosis for her, with her delays, even over several years, one of my biggest concerns was always how she would do with her peers, and how she would make friends, given her nonverbal status right now, and her differences to be seen down the road. But, she has made friends. Every day those friends greet her at the door of her preschool with smiles, giggles, and hugs. She is eager to see them each day. I absolutely love this, and it touches my heart that God has allowed me to see these friendships, speaking so directly to my own area of concern. Isn't he good like that?
Better still … When we saw the geneticist, we learned that he has one other child patient in the central Ohio area who has Weidemann-Steiner Syndrom (WSS). Just one in this entire area. Yesterday at my IEP meeting at Sophie's school, I learned that a child at Sophie's school has this syndrome. Say, what?! Today, I met her mommy. And I found out that this little girl who has WSS was actually in Sophie's class last year. I passed her mommy everyday in the halls and parking lot for almost the last year. What a sweet blessing. She is the other child that our geneticist diagnosed. Of all the places in Ohio that she could be, she's here in Lancaster, at the exact same preschool as my daughter. Only God could do something like that for me. What an immense blessing. There are perhaps thought to be three children in this area who have the syndrome, one a baby, and it just so happens that these other two little girls – Sophie and Kloe – attend the same school. Just so happens. I know my Father sees me. I know he loves my child. I know he loves me.
God faithfully reminded me of the big picture this morning as I listened to some worship music:
"Come out of sadness
From wherever you've been
Come broken-hearted
Let rescue begin
Come find your mercy
Oh sinner come kneel
Earth has no sorrow
That heaven can't heal" (https://www.youtube.com/watch?v=HELQyZNnR-g)
Sophie's precious soul is eternal. Her life here may have brokenness. All our lives do have some form of brokenness. But in the wold that she was made for, there will be no more tears, no more brokenness. There is always hope. Though this journey may be difficult, I'm choosing to view it as my "light and momentary trials." It's not easy, and I'm not sure my heart is 100% there yet. But I'm making my choice: God is good, and he is faithful; he love us, and he sees us; he is always working for our good, even when our hearts feel like they're breaking.