Hundreds of thousands of five year olds are headed off to kindergarten this week. But not my five year old. I see dozens of first day of kindergarten pictures cropping up on the newsfeed. But not on my wall. And it hurts every bit as much as I thought it would. My sweet Sophie is left behind. Several of my close friends also had children the same year that Sophie was born, and I am watching them all head off to kindergarten this fall, as Sophie prepares to go back to preschool for another year.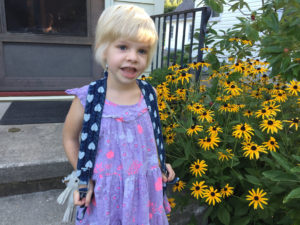 Last spring we labored over the decision of whether or not to register Sophie for kindergarten this fall. And we (wisely) chose to wait, giving her one more year to grow and progress with her fine motor skills and social skills in preschool. We know we made the right decision, the best decision for Sophie. But that doesn't minimize the pain of our choice. If you are a special needs mom, I guarantee you know this dichotomy well. We don't doubt that we made the right choice, but sometimes the right choice is still one filled with pain. Yes, I feel peace and a certainty that I've done what's best, but not gladness. I wish I didn't have to make this choice for Sophie. I wish that she were going off to kindergarten with all those other babes born in 2012. My heart breaks that she's not. Yes, of course I love my daughter just as she is. But I find that at each new stage of life, acceptance is a new process to start all over again, especially in these moments where Sophie seems to be left behind.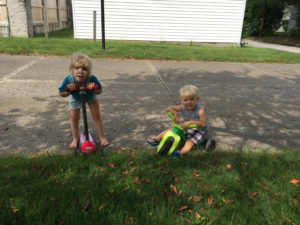 I really feel like I've been watching her get left behind her whole life, as her peers sat up and crawled, then walked, as babies. As they began to talk. As they began to make new little friendships. Left behind. It's painful. And it leads to the fear that she will always be left behind, throughout all of her life. Never take for granted the gift of having your kiddos be doing the right thing at the right time. Everyone always says, "It's ok, she's just doing things on her own time. She's perfect the way she is. Don't worry." And I smile, always appreciating the sentiment, for sure. But the reality of having a child who doesn't do what society says is "normal" or "on time" will never not be hard as a mother. Please realize that. It will never not be hard for me. If she's 5 and not ready for kindergarten or 16 and not ready to drive… it will never not be hard… acceptance will always be a process.
I am equally sure that she will have a wonderful year of growth this year in preschool. We are so happy with the all day program that she'll be in. And her teacher and aides are WONDERFUL! I expect to see her much more fully prepared for kindergarten after this year, and that brings my heart a lot of peace. Her fine motor skills are growing in leaps and bounds. She's actually interested in writing letters now, even though she still can't do it. Interest is always the first step, so I know her writing skills will begin to emerge soon. She's become quite a whiz with the scissors this summer, too. (My floor is often adorned with multi-colored construction paper confetti!) And I hope that her social skills will also improve this year. Hopefully they're just lagging behind, like other things, and not another serious red flag to consider.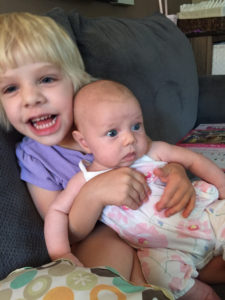 So where is God in all of this? I'm not sure. Usually my Sophie Stories are full of faith and how God is leading me to trust him. This, my friends, is different. This is raw. This is the sanctification of my soul through mothering Sophie with all the delays she has had and continues to have. And God is in this too. But it's a different kind of journey. It's less of a faith journey right now, and more of a battle for my soul to look more like Jesus as I labor through parenting Sophie. I'm ok with that.
I'm also reminded that I'm playing, once again, at the dangerous game of comparison. I learned early on as Sophie was left behind that the comparison game did little but steal my joy. So I'm choosing to turn my eyes, or at least my hurting eyes, away from all those adorable pictures of new kindergartners. I'm choosing to look instead on the beautiful child God gave me, and I'm trusting that he knew what he was doing when he gave her to me, just as she is, just as I am. I'm trusting that the eye of Jesus is never turned from Sophie, and I'm remembering that he loves her more than I do. I know this year may hold some difficult things for Sophie as we head back to her developmental pediatrician in the fall. My mama's heart is already aching. But I'm trying to beyond all of that, searching for that big picture faith that helps me walk through all of it.
Jeremiah 29:11 "'For I know the plans I have for you,' declares the Lord, 'plans to prosper you and not to harm you, plans to give you a hope and a future."