This morning we gathered our clan and headed out to church early. It was our week to volunteer, which means arriving early for the volunteer meeting. When Andrew and I serve on the same week, we bring out kids into the meeting with us, since neither of us can watch them outside of the meeting. As you would imagine, they create distractions, they whisper too loudly, basically unaware of "sitting quietly while the pastor speaks." But we do our best to contain them through this brief meeting.
At the end of the volunteer meeting, we always circle up for prayer. We bring our children with us into the circle because they are an extension of our service, and to keep tabs on them. Sophie especially has a hard time being still and quiet for prayer. As we circled up, I shushed her, but our pastor's wife, aware of Sophie's journey, commented, "It's just so good to hear her chattering." And so I shared with her that today is Apraxia Awareness day, on top of being Mother's Day, so it is an especially meaningful day for our family.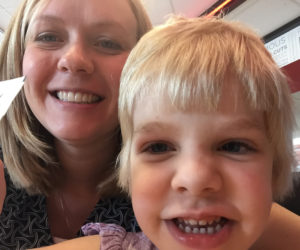 Two years ago, when Sophie was three, she was still completely unable to speak or even imitate sounds. Just after her third birthday, we took her to a private speech facility for evaluation, and she was diagnosed with Childhood Apraxia of Speech (CAS), a speech disability where the brain fails to coordinate the muscles of the mouth properly for speech. We were told at the time of her diagnosis, and as early as her second birthday actually, that she would require years of speech therapy if she ever were to speak. IF. That was such a devastating thing to hear spoken over our child. At that time we had no idea what Sophie's journey to speech would look like. But we held on to God's promises and his truth that nothing is too difficult for him, that he does all things well, and that he is indeed a good Father, no matter what Sophie's future might hold.
Now five years old, Sophie is our little chatterbox. It is an inexpressible blessing to hear her chatter. She is a living testament to God's goodness. Just as she showed each of those volunteers today how much she loves to chatter, she showed them how good God has been in her life. Apraxia is a difficult diagnosis, but it is not bigger than God.
So today I am especially thankful for the reminder of God's goodness to our family, to me as a mother, and to Sophie, throughout her whole journey. Last year on Mother's Day, Sophie painstakingly told me, "happy mother's day" for the first time, and I cried tears of joy. A year later, I am greeted each day with her incessant chattering. It is a gift to be her mother (and Micah's too).
Today, I am standing in faith with other mamas who have yet to hear precious words from their children who suffer from CAS. May they feel peace as they wait and may they never give up as they battle apraxia with their little ones.