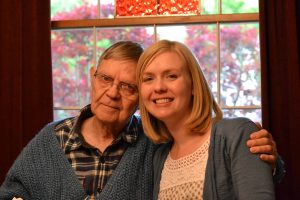 Mornings like this take me back. There's a light frost, and the air is chilly, but as the sun peeks out, I know it will be a warm day. As I'm getting ready for my day, brushing my teeth, combing my hair, putting on my make up, my mind is 100 miles away.
I'm in Mansfield, in a small grove of maple trees outside my best friend's house. It's cool in the woods, but the afternoon sun above the canopy of trees is warm. The night was chilly, the morning saw a light frost. But by afternoon we'd shed our jackets and felt the warm sun on our skin as we played outside. We'd run with the energy of the coming spring, knowing that the cold days of winter were now numbered.
After work, on these days of my memory, Daddy would come pick me up in his gray Honda hatchback. I would know our destination with one glimpse into the trunk. It would be full of industrial sized mayonnaise jars, empty, of course, awaiting sap. We'd drive the few minutes from home to that grove of trees and gather the sap. I'm sure I wasn't as helpful as I remember, because I couldn't have been more than 5 or 6 when I remember helping Daddy with the sap. I have a 6 year old, and I know exactly how helpful she would be in this task! But I never remember Daddy getting frustrated, just a happy camaraderie as we went around to check our gray metal buckets to see how much sap we'd collected. We poured it into the mayo jars and tallied up our cache. Only a couple of gallons on a slow day. But some days the 3 gallon buckets would be full to overflowing. Days like today, where the morning was chilly, but the sun soon brought warmth. The sap would start to flow. We haven't collected sap in well over 20 years, but this type of day never fails to take me right back to those maple trees.
I felt special when I got to collect sap with Daddy. He's always had a way of making me feel special. I hope that I have that way about me, as I'm like him in many ways. I hope that I can live in the moment with my kids and create special memories that they will cherish on cool spring mornings. I'm sure that my daddy was stressed just like me, just like every other adult on this planet, and I'm sure at times he let that out in ways he shouldn't have, but I rarely remember him giving in to that stress. I know he did, because he remembers (or used to) and used to talk about it, feeling like he had made mistakes. That gives me a lot of hope. Because I feel that way about myself a lot, like I'm going to mess my kids up with all my mistakes. But I don't really remember his mistakes. I just remember collecting sap with my daddy. I remember him pouring in to me, just like that sap poured into those buckets, just like I want to pour into my own kids now.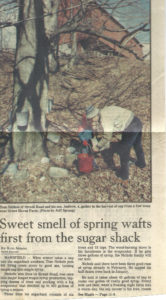 A portion of an article published in the local newspaper about my daddy's sapping, circa 1986. I remember that hat vividly.