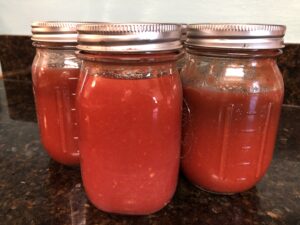 Have you ever tried to take the easy way out? I have a doozy for you! About a year ago we moved to a new house, and with the house came a dishwasher! All the angels sang and heaven rejoiced with me! For 12 years I went without a dishwasher while I was at home with my three young babies. To say I was delighted about my new dishwasher would be the understatement of my life. I was thrilled. It made kitchen clean up so much easier and so much faster! Just pop those dishes in, press a button, and voila! – clean dishes! Unspeakable JOY!
Until one day I tried to take the easy way out, and I made a horrible error.
Since we have 5 acres now, I was able to plant a much bigger garden last summer, and I branched out in my canning selections. I made tomato sauce for the first time this summer. (And boy wasn't THAT a learning experience!) It sure does make a mess! I have this nifty little machine called a Victorio Strainer – just put the tomatoes in the top, turn the crank, and sauce comes down the shoot, while seeds and skins funnel out the end into a waste bowl. It makes sauce as easy as sauce can be (which, to be honest, is not terribly easy, but it sure helps!). As you can imagine, the strainer is a mess when I get finished putting the tomatoes through. There's tomato puree stuck in every crevice. The BEST remedy is to use a stiff bristle bottle brush to push the remainder of the puree, seeds, and skins out of the places that it shouldn't be into the trash, then to do that again under running water. But this process is still messy, and can make a bigger mess of the sink and counter, and my HANDS. It's not my favorite part of the job.
So, after a particularly grueling and difficult sauce making session, I decided to take the easy way out. I shook the strainer pieces out into the trashcan, and then I threw them all into the dishwasher. To my delight, it came out pretty clean. I cleaned up the areas that needed a little attention and put the pieces way, not giving another thought to what I had done, and secretly delighted at how much easier the clean up process had been.
But, OH, what a horrible error. 
Soon after, I began noticing some residue on my clean dishes coming out of the dishwasher. I noticed little pink or red flecks on glasses, sometimes in bowls, and then in the kids cups and plastic dishes. I thought to myself, "What is going on? This dishwasher is not very old… Is it just less efficient than I thought it was? Is this really what having a dishwasher is?" My hopes were dashed and my spirits sank. It's not the miracle machine I thought it was going to be. I tried various soaps and things, asked friends about their dishwashers, meanwhile I did not make any connection between the red residue and the horrible tomato mess that I had placed into the dishwasher when I tried to take the easy way out.
This went on for months.  Finally, my husband Andrew asked me if I had put something into the dishwasher that could perhaps have made a mess, which was now being sprayed all over our dishes every day. And that's when the light went on. My tomato-covered Victorio Strainer. I knew then what the answer was: I had to clean the dishwasher. My fifteen-minute quick fix cost me (and my amazingly gracious husband) over four hours of cleaning. We had to disassemble everything inside the dishwasher that we could. We had to clean inside inaccessible pieces and parts that were now coated with a thick rubbery pink substance. I don't know if you've ever tried to clean the inside of a dishwasher sprayer, but wow. It is long, relatively flat, and hollow on the inside, with one hole for the water to be pumped in, and a dozen or so tiny holes on the other side for the water to be sprayed out onto the dishes. It's all one piece, and the inside was entirely coated with the goo. Oh, and there are two of these, one for each rack of the dishwasher. We swished water around. We blew in the holes. We covered certain holes to create pressure in the other holes to blow the gunk out. We took tweezers to the tiny holes to pull out strings of pink goo. And then we used them on the tiny in-between spaces that were filled with dried red gunk too. We cleaned the drain. We scrubbed the walls. We took the racks outside to spray them off (in the winter!). Oh, the horror.
It is safe to say that I will never do that again. I mean, I may need to clean out my dishwasher in the future, but I will never again put that kind of mess into the machine. I took the easy way out, and it ended up costing me months of dirty dishes, not to mention frustration, plus hours of cleaning the machine.
Why do I tell this harrowing tale today? Because I think we often try to take the easy way out with our faith. We maybe don't want to put the work in initially that we ought to, and we pay for it with nasty residue on every surface of our life afterwards. When I'm tempted to take the easy road, I often tell myself, "Tomorrow's Catherine will thank you for doing this today." It helps me with tasks that are less than desirable, but truly need to be accomplished for the best outcome.
In learning to yield to the Holy Spirit, I'm finding there are many times he asks me to do things that seem hard. Maybe it's exercising self-control when I'm ready to blow. Maybe it's choosing faith when I'm being swallowed by fear, standing up to the devil when he wants to keep me immobilized through fear. Maybe it's stepping out of my comfort zone into new ministry or a moment of ministry I wasn't expecting. Maybe it's true repentance and freedom from a sin I've been entangled in for too long. Sometimes these things feel too hard. And it feels easier to continue in my sin or spiral. It feels easier not to leave my comfort zone. But the easy way, the path of least resistance, isn't always the best path. When we take the easy road, there's always a cost.
A friend of mine recently shared this on social media: "Strangely, life gets harder when you try to make it easy. Exercising might be hard, but never moving makes life harder. Uncomfortable conversations are hard, but avoiding every conflict is harder. Mastering your craft is hard, but having no skills is harder. Easy has a cost."
Whatever hard thing you are facing today, please know that you can do hard things. One of my favorite verses to dwell on when I'm feeling powerless for a situation or task comes from Romans 8:11. It reminds me that the same Spirit that raised Jesus Christ from the dead is now living in me. There is nothing too difficult for my God (Jeremiah 32:27), and he has placed his Spirit inside of me. With the help of his Spirit, we can do all things (Philippians 4:13).
I'm exceedingly thankful today that Jesus did not take the easy way out. In the garden when he prayed before his arrest, he asked his Father if there was any other way. God's love for humankind was so incredible that he did not spare his own Son. There was not an easy way out. And so Jesus walked every excruciating step of his hard path. He did it for me and for you. The next time I want to resist his Spirit's nudge in me to do something out of my comfort zone, I will remember that my Jesus did the hardest thing for me, and so I can do hard things too when I walk with him.