Last week we joined the droves of people heading out for our annual candy collection on Halloween. The kids counted down for days until Trick or Treat finally arrived. This year we had a pilgrim, a hunter, and a ballerina.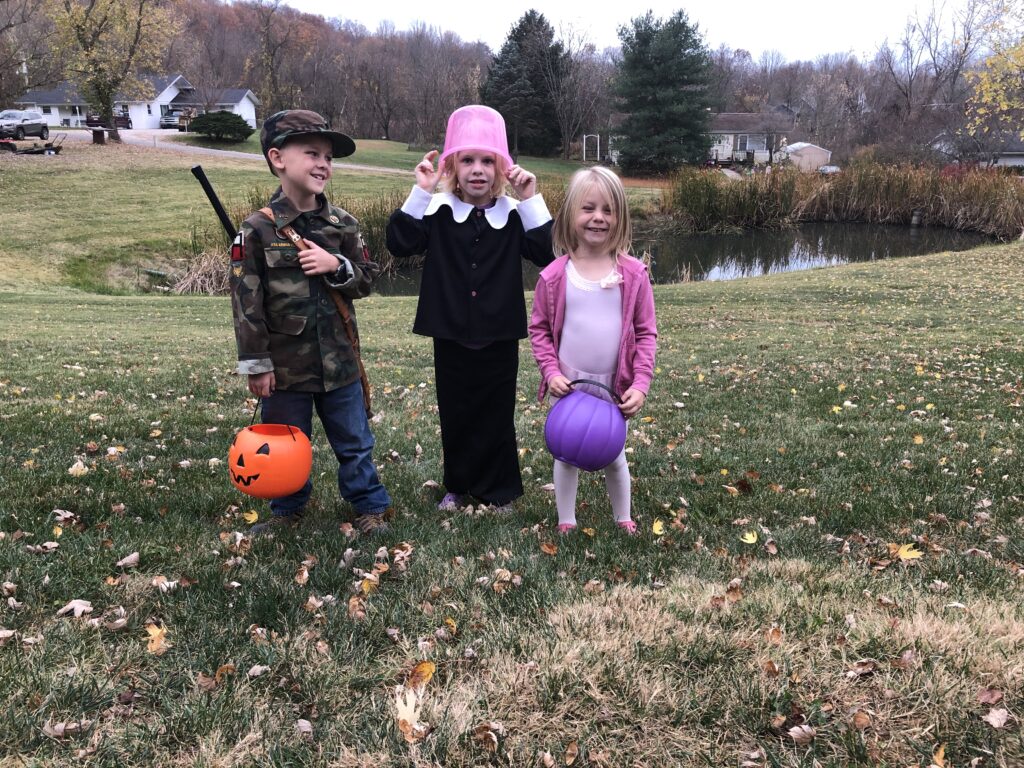 We actually had good weather this year, which really brought out the crowds. We started out on the city block where we used to live, and at first there weren't that many people walking the sidewalks with us. But as we headed for our second block, the crowds really ticked up. Our youngest can be a bit clingy in a crowd, so I was pleasantly surprised that she was running up ahead of us with her brother and sister. After retrieving her candy from each porch, she would turn around and make eye contact with me, making sure she knew exactly where I was. After we entered one particularly crowded area, I could see her scanning the crowd, searching faces for mine. There was just enough time looking that I thought she might start to cry. But I had my eye on her the whole time. I waved and called her name. When she spotted me, relief visibly washed over her face, and she said, "There you are!"  
I responded, "You may have lost sight of me, but I never lost sight of you."  
Something resonated in my spirit when I said that…. How many times have we lost sight of the Lord and where he's working, or what he's doing. And yet, he has never lost sight of us. Or maybe we have strayed away from him, we have wandered so far that he's no longer even in our vision. But he's never lost sight of us.  He is the God who sees you.  
This name for the Lord comes from an unlikely female character in the Bible. Hagar, the female servant to Sarai, wife of Abram, became pregnant by Abram at Sarai's request, but then an embittered Sarai drove Hagar away, to the point where she is running literally out into the desert. Who knows where she thought she was going – perhaps it was an "anywhere but here" type of scenario for Hagar. She's hiding out by a spring when the angel of the Lord finds her, and he makes her a promise that everything is going to be alright with her son who will be called Ishmael. Hagar responds, "You are the God who sees me." (Gen 16) I love this! In the middle of her running, her hiding, in the middle of her desert place, Hagar knows she is seen by God. No matter where we're running or hiding or how far we've gone, God still sees us.  The words of Psalm 139 remind us of this truth as well:  
7 Where can I go from your Spirit? Where can I flee from your presence? 8 If I go up to the heavens, you are there; if I make my bed in the depths, you are there. 9 If I rise on the wings of the dawn, if I settle on the far side of the sea, 10 even there your hand will guide me, your right hand will hold me fast. 11 If I say, "Surely the darkness will hide me and the light become night around me," 12 even the darkness will not be dark to you; the night will shine like the day, for darkness is as light to you.
There is no place you can be that is so far away that God loses sight of you. No matter if your life feels like a wasteland, or a chaotic crowd, God has his eye on you. Just like I had my loving, protective eye on my daughter at trick or treat, God has his loving eye on each of his children. He knows your name, and he's calling out to you. When you turn around, he will be faithful to be there. Today if you feel like you're lost in a crowd or hidden in a desert, I encourage you to pray a prayer that I have prayed many times: "God, I need to know that you see me today." God has never failed to answer this prayer for me when I pray it. I believe he loves showing us not only that he sees us, but how he sees us. You are not lost or hidden from the eyes of your loving Father. I pray that you feel seen today by the God of Hagar, the God who sees.