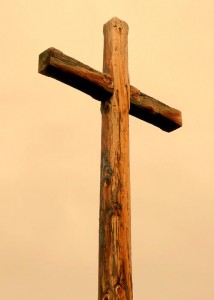 This week in church we were challenged to leave our burdens at the foot of the cross. As we sang our worship songs and I processed this idea, I had a striking realization. Leaving a burden at the foot of the cross doesn't mean that the issue causing the burden is going to be removed. It's the burden, the weight, that will be lifted.
Often I think we wishfully hope that in leaving something at the cross, it will suddenly no longer be an issue. But that's not reality, is it? What does come is freedom from that entanglement with fear and anger and anxiety and stress and confusion. Those are all ploys of the enemy to derail us from our trust in the Lord.
As we have been processing the decision to seek an apraxia diagnosis for Sophie, my heart has felt so burdened. There is a heaviness, a finality, that comes in processing a speech disability that will impact my daughter for a lifetime. It is heavy.
My heart's cry is that Jesus would just touch her mind and she would be healed. I know he is able. But I know that in surrendering my burden at the foot of his cross, he makes no promise to remove her disability. But he does promise to carry the burden, the weight. There is freedom at the foot of the cross.
No matter how long it takes Sophie to learn to talk, I will trust in Jesus. I will let him carry the burden so that I can walk in freedom. I will not allow the enemy to manipulate me, to consume my thoughts and my life with fear and anxiety and anger.
Let's just say it: It is what it is, folks.
Being angry and fearful and anxious changes nothing. Those are the burdens that I leave at the cross. I lay my daughter and this wicked apraxia at his feet, trusting, knowing, believing that he is so good. His plans are so good. It doesn't look like good to me through an earthly lens, but, oh, how limited my view must be. I will trust that it is good.
After our most recent testimony at church some months ago, a fellow church member shared with me a word that God had given her as we were sharing Sophie's story. She said, "It is well. It will be well." And I have held onto those words. I believe them with all that I am. My Father has a good plan for Sophie's life. I cannot process the fears and question marks of the future, and so I'm  putting it at the foot of the cross, and I'm walking away, free.